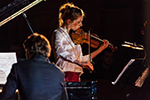 In the series entitled Meesterlijk!, Grachtenfestival Amsterdam brings young masters together with more seasoned masters of the trade. This series concludes with a performance by the violinist Rosanne Philippens and the music ensemble Ludwig.
The violinist Rosanne Philippens has been nominated for the GrachtenfestivalPrijs 2014, and has already won a number of domestic and international prizes over recent years. In 2014, she was a soloist inter alia with the Rotterdam Philharmonic Strings under Yannick Nézet-Séguin and the NJO Symfonieorkest under Stefan Asbury. The young violinist has an immense amount of verve and drive and will not shrink back from any challenge! So the musical company Ludwig sees her as the perfect partner in crime. Ludwig is a collective that is made up of committed and ambitious musicians and creative thinkers who love turning current concert practice on its head, "upside down".
This collaboration is a long-cherished dream for both parties, and they have decided to pull out all the stops for this programme. It promises to be a musical spectacle!
Dit concert wordt live uitgezonden op NPO Cultura.
Kom vast in de stemming en luister
hier
naar Rosanne Philippens op de Grachtenfestivalspeellijst op 24classics.com