Violinist Shin Sihan is the winner of the Grachtenfestival Prize 2020. At the beautiful winter garden of the Krasnapolsky Hotel during the festive Night of the Grachtenfestival Prize, Sihan received the prize. 'Shin Sihan binds outstanding musicians to himself and seduces them to join his musical adventure. Together with them, Shin creates magical moments and he convinces the audience', the jury glories Shin. Sihan acquired the titel Artist in Residence 2021 and will get carte blanche in order to present a self developed program during the next festival. The nominees, soprano Channa Malkin, violinist Shin Sihan and pianist Daan Boertien were followed by a professional jury, consisting of Frederike Berntsen (critic classical music, Trouw), Aart-Jan van de Pol (director Nederlands Vioolconcours) and Marlon Titre (chief of department Classical, Royal Conservatory The Hague and musician). Jury chairperson Frederike Berntsen handed over the prize after the short performances of the three nominees. Grachtenfestival Prize The Grachtenfestival Prize emphasizes the mission of the Grachtenfestival to present young, talented musicians to a wide audience. The talents are often invited to play for several years at the festival, where they are given a stage that matches the stage of their career. The Grachtenfestival challenges the musicians to get off the beaten track and supports them in this process. A nomination for the GrachtenfestivalPrijs is an important boost for young musicians in their careers.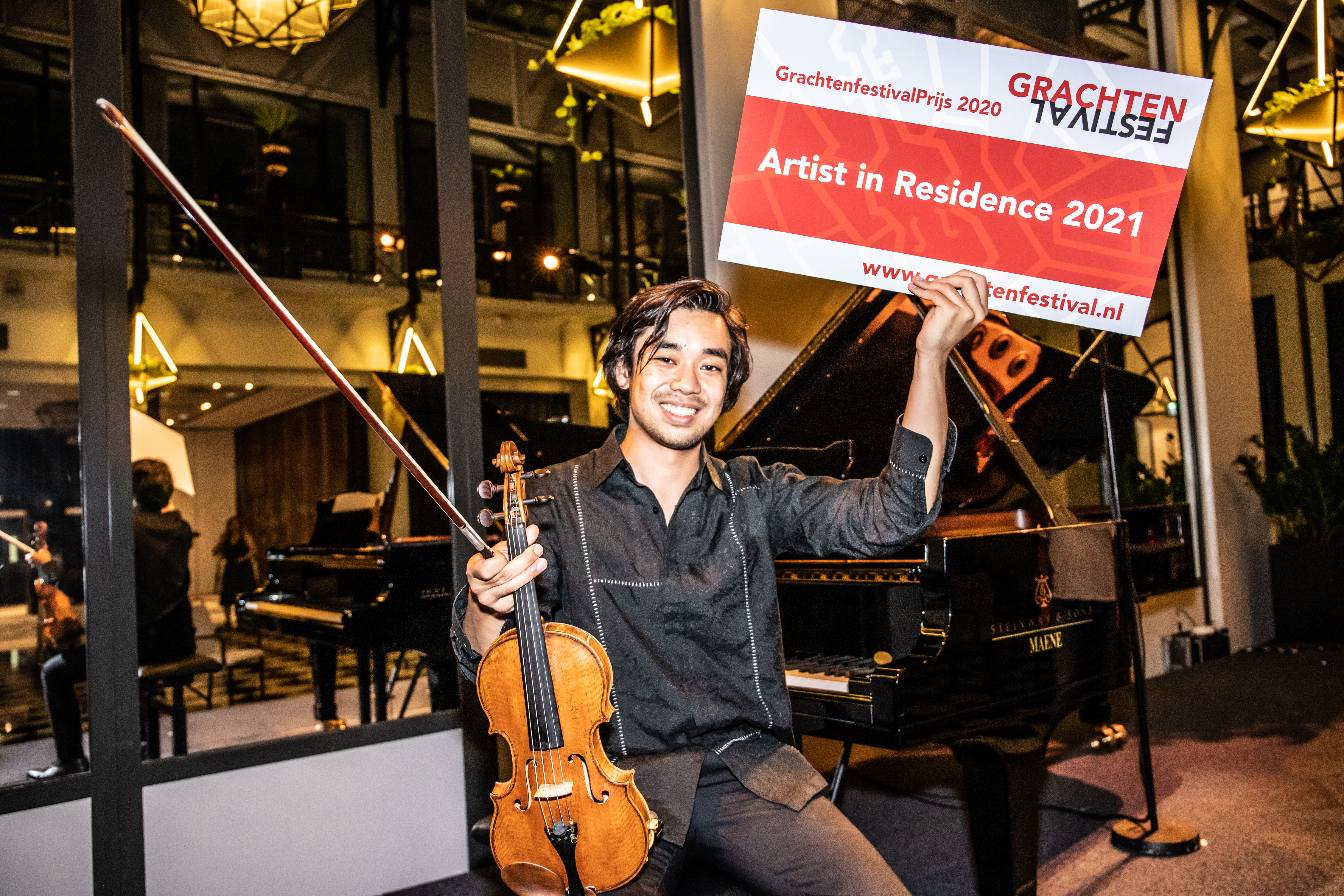 Winnaar van de GrachtenfestivalPrijs Shin Sihan © Melle Meivogel
Shin Sihan Shin Sihan started play the violin at the age of 6, taught by Coosje Wijzenbeek at the Conservatory of Amsterdam. He continued his studies with Vera Beths at the Royal Conservatory in The Hague, where after graduating he received the Fock Medal for the highest mark of the year and an award for his phenomenal virtuosity, combined with a phenomenal musicality. Since 2017, he has formed the Amsterdam Piano Trio together with pianist Yang Yang Cai and cellist Alexander Warenberg. He is also part of the Chianti chamber music ensemble, a group of five musical friends who join forces in trios, quartets and piano quintets. Shin plays a beautiful violin, made by Nicolo Amati in 1675, Cremona, on loan from the Caldic Collection. The fourteenth award ceremony The Grachtenfestival Prize got rewarded for the fourteenth time this year. Previous winners are: Emmy Storms (violin, 2019), Raoul Steffani (baritone, 2018), Ella van Poucke (cello, 2017), Sophiko Simsive (piano, 2016), Mathieu van Bellen (violin, 2015), Rosanne van Sandwijk (mezzo soprano, 2014), Remy van Kesteren (harp, 2013), duo Sax & Stix (saxophone and drums, 2012), Karin Strobos (mezzo soprano, 2011), Judith van Wanroij (soprano, 2010), duo Bosgraaf en Elias (blockflute and guitar, 2009), Lisa Jacobs (violin, 2008) en Ties Mellema (saxophone, 2007). De Avond van de GrachtenfestivalPrijs was broadcasted live by NTR on NPO Radio 4.