The Grachtenfestival Conservatorium Concours has been the opportunity for the most talented students at Dutch conservatories to present themselves to the general public since 2003. All conservatories from the country show what they have in house and annually send the best students to the national preliminary round.
The national preliminary round takes place this year on Sunday 24 November. And you can become part of the public jury.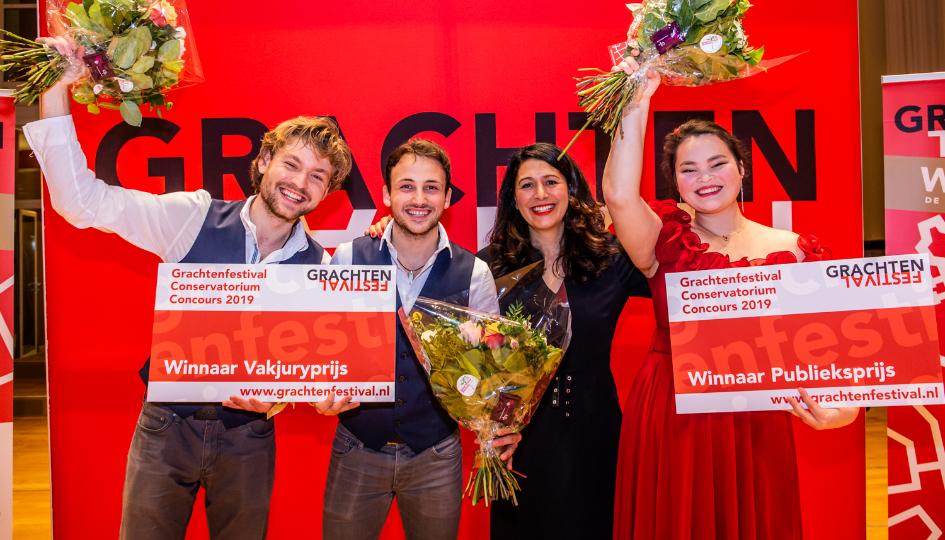 xSight@ Percussion Duo (Jose Miñarro Sanchez en Georgi Tsenov), winnaars van de Vakjuryprijs, Wethouder Touria Meliani en de winnaar van de Publieksprijs: Elenora Hu. Foto: Melle Meivogel.
How does it work? The Dutch conservatories send their best students to this competition. Six candidates will eventually advance to the final on Sunday, February 9, 2020. Five of them will be chosen by a professional jury. A public jury chooses the sixth finalist. Do you want to be part of this public jury? Send an email to: info@grachtenfestival.nl
The national preliminary round is held at the Conservatorium van Amsterdam, near Amsterdam Central station. Approximately 10 musicians / ensembles will be judged, each performing a piece/program of approximately 10 minutes. After this jury consultation takes place, the winner of the public jury will be announced on the same day.