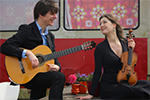 Paganini, Bartók, Piazzolla, De Falla: these four composers all created music full of energy, based on folk dance. Compelling rhythms, exuberant melodies and tranquil melancholy will take the listener on an enriching Expedition along countries and cultures, each with their own characteristic types of dance.
The program 'Baila!' will bring both original works as well as adaptations of Spanish Flamenco dances, Romanian folk dances and Argentinian Tango's. In Paganini's works you will hear Italy of the early 19th century in the 'Marcia' and 'Rondo', and Manuel De Falla will take you to the sweltering southern Spain of a century later. It was around the same time that Béla Bartók wrote his Romanian folk dances, originally for piano. He got his inspiration searching for original folk music in far and away villages in Hungary, Romania and Slovakia. Near the end of the 20th century the Argentinian Ástor Piazzolla composed his Histoire du Tango, consisting of four different Tango's, from its origin in the brothel until the modern Tango of the early 21st century.
In this strength of violin and guitar, the energy of the dances will explode in the interaction between two snare instruments; passionate, intimate and intense, like a pair of dancers!