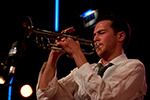 Young trumpet Gidon Nunes Vaz (1991) and contrabass Ties Laarakker (1998) form a very promising duet for the future. Today they take a trip down to memory lane with a tribute to trumpet legend Kenny Dorham.
Het concert is ook vanaf de kade te beluisteren en daarmee wel rolstoeltoegankelijk.

Mede mogelijk gemaakt door Waternet.
I.s.m. Conservatorium van Amsterdam.