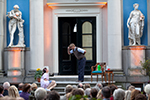 The wonderful garden Museum van Loon will be the setting of The Apple Tree, by the American composer Jerry Bock (who became famous with a.o. the musical Fiddler on the Roof), and libretto by Mark Twain (1835-1910). The concert is characterised by sarcastic wit, and cutting as well as subtle criticism on the weaknesses of mankind.
The Apple Tree is structured as a diary. Eve tells about her meeting Adam, what happens in the Garden of Eden, their discovery of a new world en the birth of their two sons, Cain and Abel, after she and Adam are driven from paradise because the snake has tempted her to taste the forbidden fruit from the apple tree, the tree of life. She recounts their weaknesses, their insecurities, and their feelings for each other. In the fall of her life she reflects the past, and then she dies. Adam, who never cared for flowers, now cherishes her garden because Eve loved it so, and she was his Eden.
The Apple Tree premiered in 1966 on Broadway.