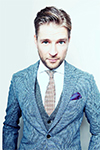 The 'Songs of Travel' by Ralph Vaughan Williams are an obvious choice of program, given the theme of Grachtenfestival Amsterdam, 'Expedition'. The song cycle, which is also seen as the British answer to Schuberts 'Winterreise' and Mahlers 'Lieder eines fahrenden Gesellen', has never ceased to impress audiences, ever since it premiered in 1904. It is a colourful tale of a journey, of a vagabond enjoying his freedom, of the loss of one's home and the memory of a lost love. The Canadian composer and conductor Harold Birston arranged the 'Songs of Travel' for piano quintet and baritone.
Martijn Cornet is a versatile baritone who is currently an ensemble member of the Aalto-Musiktheater in Essen, Germany. During Grachtenfestival Amsterdam this young singer will be surrounded by a top league of musicians, all so young, we could hardly call them 'Old Masters.' In spite of their age, though, they have already established themselves in the Dutch and international music scene.
Born and raised in Tblisi, Georgia, pianist Nino Gvetadze has won many a prize, among which the Second Prize, Press Prize and Audience Prize during the InternationaalFransz Liszt Pianoconcours 2008, as well as the Borletti-Buitoni Trust Award 2010. The Ruysdael Kwartet was formed in 1996. It won the Charles Hennen Internationaal Kamermuziekconcours 2000 and it was awarded the prestigious Kersjes van de GroenekanPrijs in 2006.
In the series Meesterlijk! Grachtenfestival Amsterdam pairs young masters with the older & seasoned masters of the trade.
Beschikbaarheid van rolstoelplekken is beperkt. Plekken moeten minimaal 24 uur van te voren gereserveerd worden via de kassa: kassa@grachtenfestival.nl
Dit concert wordt mede mogelijk gemaakt door Stichting Ambassadeurs van het Grachtenfestival.