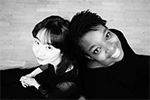 The winners of the Internationaal Studenten LiedDuo Concours 2015 are soprano Axelle Fanyo and pianist Tokiko Hosoya.
The competition for young musicians performing on a professional level is particularly aimed at the lied-duo, in which the part of the piano is considered as an equal voice. Two voices with their distinctive sound and timbre searching for a entity in interpretation, make up for an interesting Expedition!


Axelle and Tokiko met in 2012 at the Conservatorium in Parijs, where Axelle is studying singing and Tokiko accompanist. Together they were studying with Anne Le Bozec. Ever since they perform together as a duo and give concerts regularly on special venues, such as in the Petit Palais in Paris, in the Armenian Cathedral in Paris, en also in the house that used to belong to the Lili sisters and Nadia Boulanger in Gargenville. In 2014 Axelle en Tokiko performed at the "Printemps des Alizes" in Marrakech, Morocco.
At Grachtenfestival Amsterdam the internationale duo perform in Arti et Amicitiae, the society of the artists association. At the official foundation of the association in 1839, all members supported the threefold purpose: promoting the arts, improving the social and financial position of artists and forming a brotherhood. The slogan of the association: 'gelijkheid, openhartigheid en vrolijkheid' (equality, candour, joy).